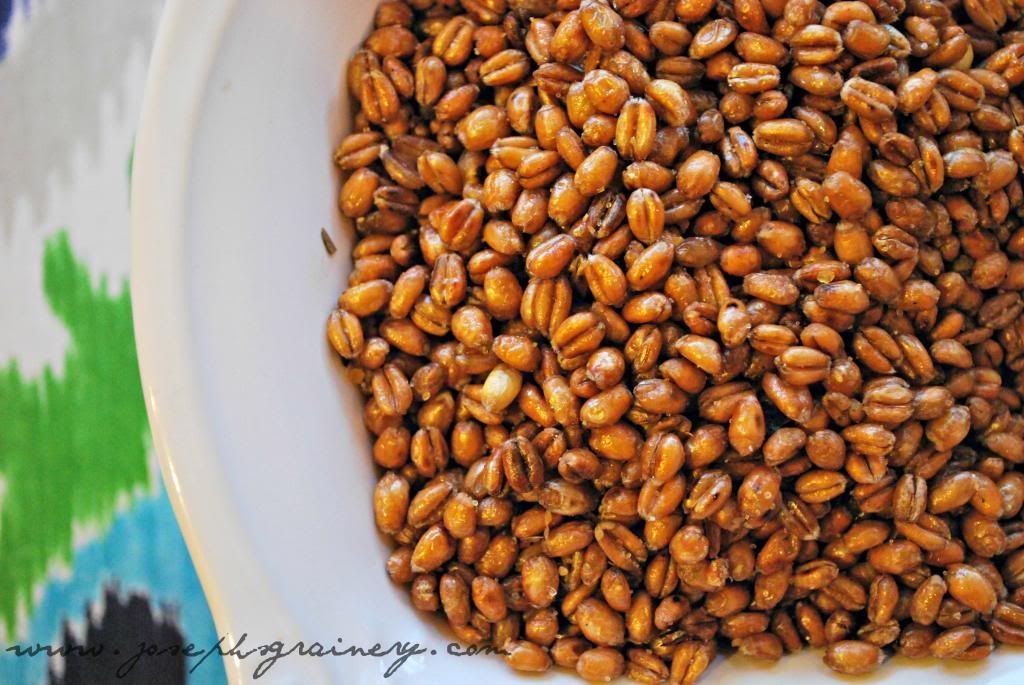 Are you looking for a salty, crunchy treat? But want to keep it healthy? Popped
Wheat Berries
may just be what you're looking for! I've been catching MaMa sneaking a palmful of these little fellas everytime she walks past the dish.
Popped Wheat Berries
---
---
A fun and crunchy treat for the whole family.
Ingredients
2 Tbs coconut or olive oil
salt
flavored seasoning (optional)
Instructions
Bring 3 cups of water to a boil in a pot. Add wheat berries, return to a boil, reduce heat to medium, cover and simmer for about 15 minutes.
Drain the water from the wheat berries and with a paper towel pat the wheat berries dry.
Place wheat berries in a cast iron skillet on medium heat. Let the heat sizzle away any remaining water on the wheat berries for a couple of minutes.
Add the oil and cook the wheat berries for several minutes until they are golden brown. Make sure to stir the wheat berries as they are cooking so they don't burn. The wheat berries won't actually all pop (a few will), most will just swell in size. The name is a bit misleading.
Add the salt and flavored seasoning, to taste. Mix well and serve.
Popped Wheat Berries - Who says a salty, crunchy snack can't be healthy?