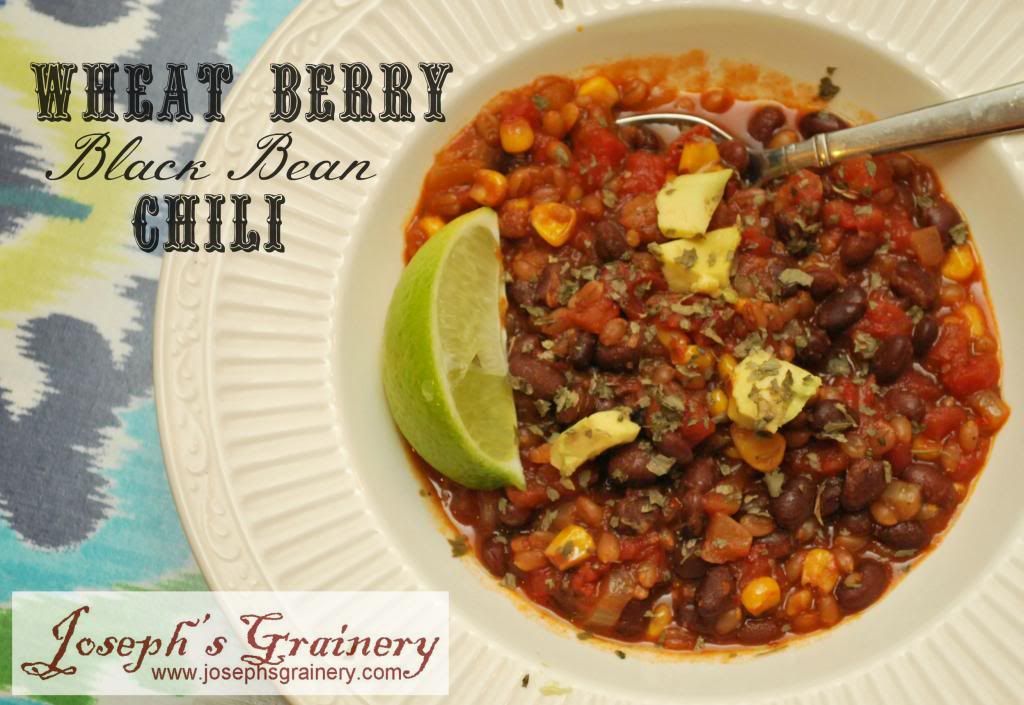 We've found our next chili recipe for the office chili cook-off! We'll be entering this Wheat Berry Black Bean Chili. The lime is the (not so) secret ingredient that makes this chili amazing.
If you have little ones like me, or don't like things spicy, make sure to reduce the amount of chili powder...or your mouth might have a spicy surprise.
Wheat Berry Black Bean Chili
www.josephsgrainery.com
---
---
A zesty and healthy chili!
Ingredients
2 Tbs extra-virgin olive oil
1 large yellow onion, chopped
5 cloves garlic, minced
2 tsp chili powder (if you don't like things spicy, cut this down to 1 tsp)
1 1/2 tsp ground cumin
1 tsp dried oregano
1/2 tsp salt
1/2 tsp freshly ground pepper
2 cans (15 oz) black beans, rinsed
2 cans (14 oz) diced tomatoes, undrained
1 c corn
2 c vegetable broth
2 tsp light brown sugar
1 lime, juiced
1 avocado, diced
chopped fresh cilantro to taste/for garnish
Instructions
Heat oil in a large pot oven over medium-high heat. Add onion, garlic, chili powder, cumin, oregano, salt, and pepper, and cook, stirring occasionally, until tender, about 5 minutes.
Add beans, tomatoes, corn, broth, and brown sugar. Bring to a boil over high heat, reduce heat, cover, and simmer for 25 minutes.
Stir in cooked wheat berries and heat through, about 5 minutes more. (If using frozen wheat berries, cook until thoroughly heated.) Remove from the heat. Stir in lime juice. Garnish each bowl with avocado and cilantro.