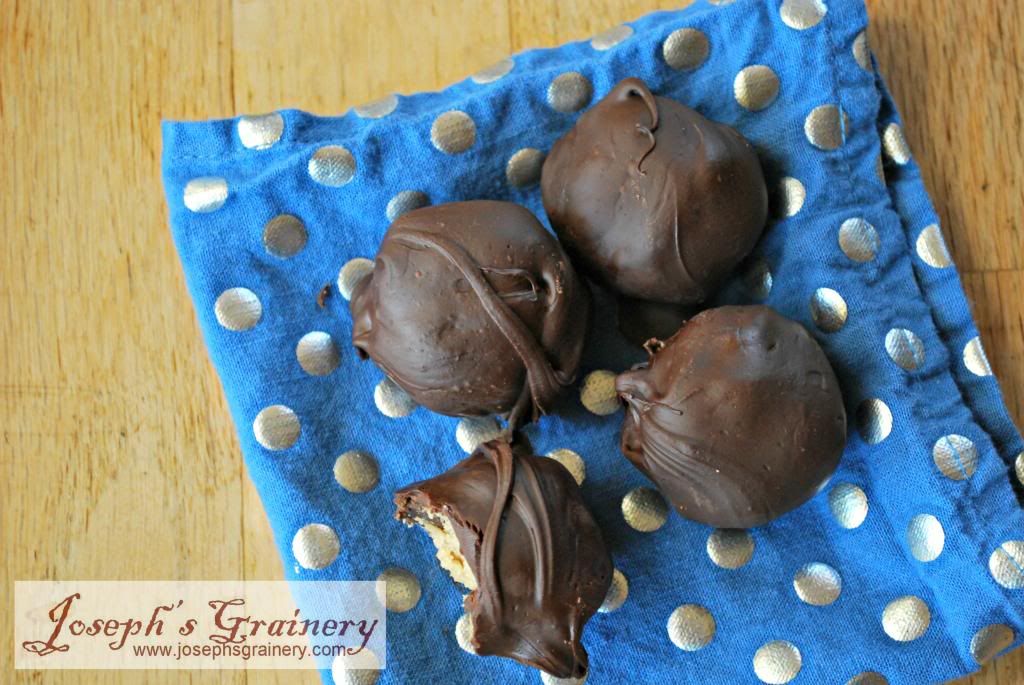 Yep, that's definitely my fault...I took the bite out of that Chocolate Chip Cookie Dough Truffle that MaMa made with
Barley Flour
. I just couldn't resist any longer and she was taking too long with the picture taking, so I grabbed one and took a bite while she wasn't looking. :) Boy, were they good! And MaMa says they were super easy to make. Next time you want something sweet, but don't have anything in the house, try these - chances are you'll have everything on hand, that is if you keep your pantry stocked with
Joseph's Grainery Whole Grain Products
.
No Bake Chocolate Chip Cookie Dough Truffles
---
---
A quick and easy devine treat.
Ingredients
1/3 c butter, softened
1/3 c packed brown sugar
1 Tbs vanilla
1 c milk chocolate chips
3 c semi-sweet chocolate chips (for dipping)
Instructions
Line a 15x10x1-inch baking pan with waxed paper; set aside.
In a medium bowl beat butter, brown sugar, and vanilla with an electric mixer on medium speed until combined. Beat in flour just until combined. Stir in milk chocolate chips. Shape dough into 1-inch balls.
Place on prepared baking pan. Cover; freeze about 30 minutes or until firm.
In a microwave safe bowl, microwave the semi-sweet chocolate chips in 30 second increments, stirring every 30 seconds, until the chocolate is melted.
Line a baking sheet with waxed paper. Using a fork, dip balls into chocolate mixture, allowing excess chocolate mixture to drip back into the bowl. Place dipped balls on the baking sheet. Let stand about 30 minutes or until set. Lightly drizzle with the remaining chocolate.