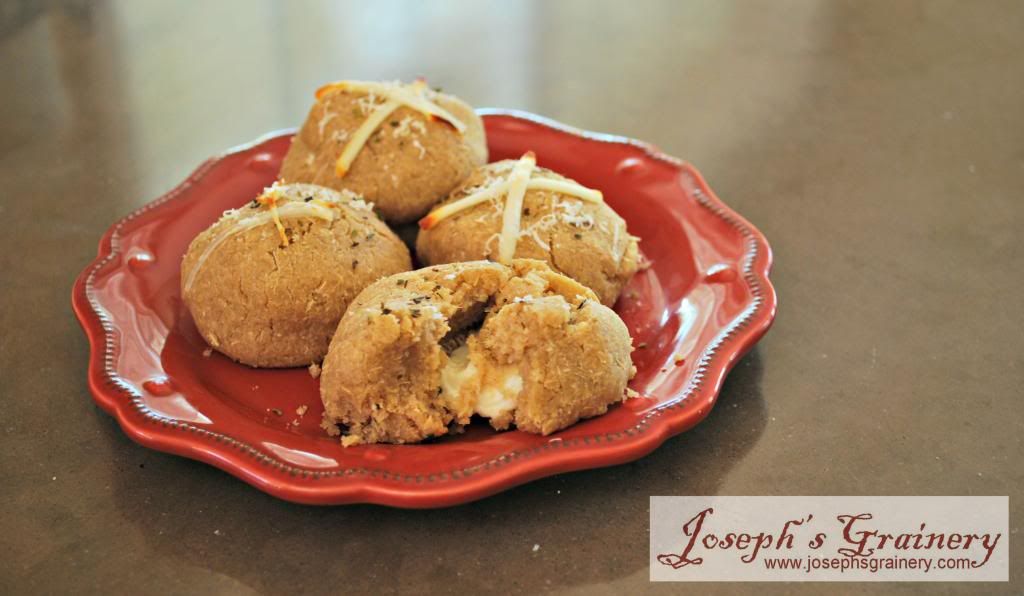 MaMa had me fooled. I thought we were having pizza for dinner. Yes, it smelled that good. These little Cheesey Rolls made with
Barley Flour
were what tricked me. I loved the melted bit of cheese inside the roll of whole grain goodness.
Cheesey Rolls with Barley Flour
---
---
Ingredients
1 c warm water (Don't get it too hot or it will kill the yeast.)
2 Tbs yeast
2 Tbs sugar
2 tsp garlic powder
1/4 c melted butter
1/4 c olive oil
2 tsp salt
8 oz mozzarella cheese
Parmesan cheese, for sprinkling on top
Melted butter mixed with a sprinkle of garlic powder and some fresh herbs if you want for spreading on the tops of the rolls
Instructions
Mix together the yeast and water and let it sit for a couple minutes.
Add the sugar, garlic powder, melted butter, and oil.
Add the flour a little and a time, mixing in your stand mixer with a dough hook. Add the salt. Knead for 10 minutes, in the stand mixer or by hand.
Let the dough rise in a greased bowl (I used the same bowl) covered with a wet cloth for about 30 minutes.
Preheat the oven to 375º.
Divide the dough into about 20 pieces or so (you can make them as big or small as you want). Put about a 3/4 inch chunk of cheese in each one and make sure you pinch all the edges back up tightly. Put the pinched side down on a greased baking sheet.
Sprinkle the buns with more shredded cheese and some parmesan cheese.
Bake at 375ºF for about 11-15 minutes until the bread is golden brown and the cheese is bubbly. Brush with the melted butter and serve warm.