Here's one you'll definitely want to try this weekend! These Whole Wheat Powdered Sugar Donuts are perfect for a Saturday morning. It's exactly what I'll be asking MaMa to make us tomorrow morning.
Whole Wheat Powdered Sugar Donuts - yum!
Ingredients for
Whole Wheat Powdered Sugar Donuts
:
1 c powdered sugar for "rolling" (for lack of a better word)
Directions: Preheat oven to 350F. Lightly grease a donut pan
with cooking spray.
MaMa loves her
Wilton Nonstick Donut Pan
!
In a large bowl, beat together sugar and egg until light in color. Gradually add to this the
flours
, baking powder, salt and nutmeg and stir to combine. Pour in vegetable oil, buttermilk and vanilla extract, stir to combine.
Pour the batter into a large ziploc bag, as you would a piping bag. Cut just the tip off of one corner of the bag and "pipe" the batter into the rings of the
donut pan
. Only fill each donut "ring" about 2/3rd full. Bake for about 8 minutes, until they spring back when lightly touched. Let cool for about 5 minutes before removing from the pan.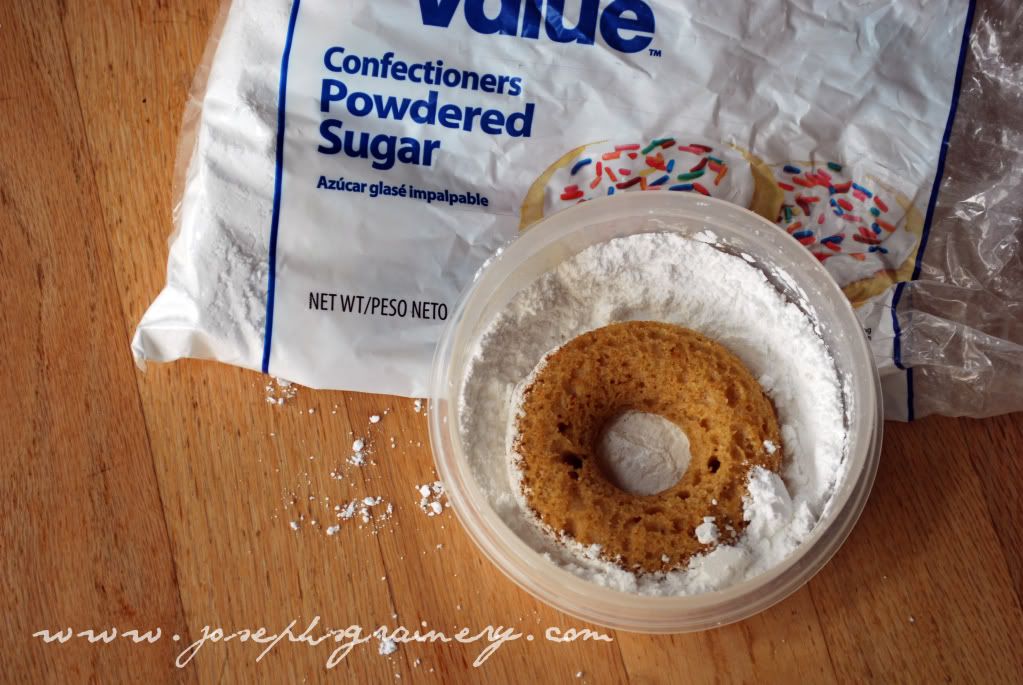 When cool to the touch, "roll" the donuts in the powdered sugar to coat.
Enjoy with a large glass of milk or as MaMa likes them, with a steaming cup of coffee.