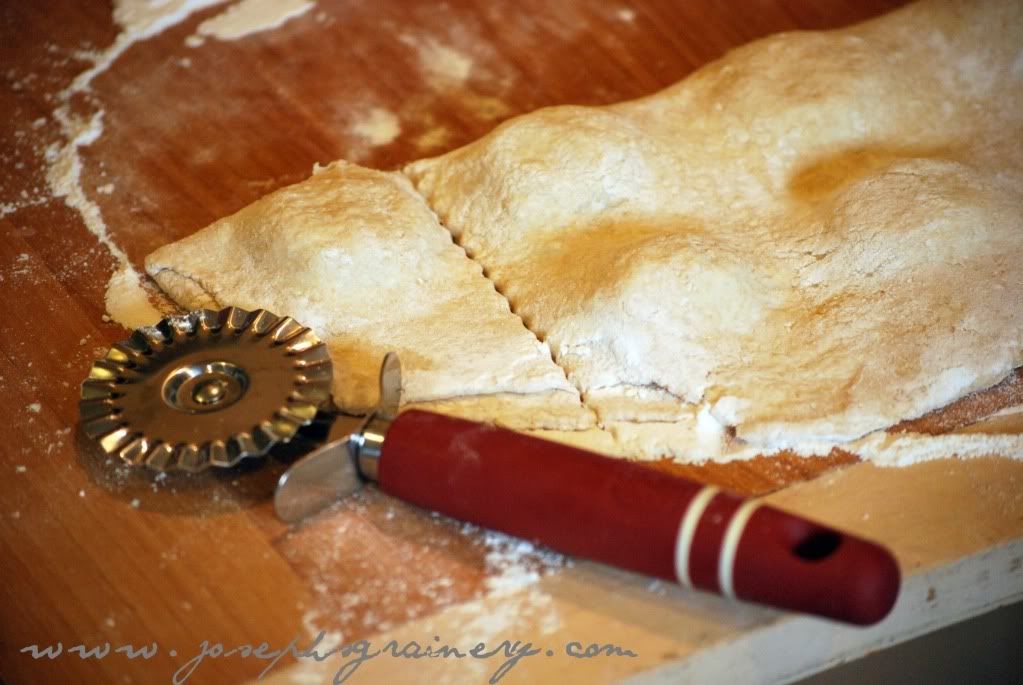 Fresh Pumpkin Stuffed Whole Wheat Ravioli
MaMa's been wanting to make homemade pasta for awhile now. She even went out and bought the cute little pastry wheel above a few months back, but it sat in the drawer, lonely until last week when MaMa saw a post on our cousin's brand spankin' new food blog,
The Food Soulmates
. Seeing their post on homemade ravioli was just the swift kick in he rear end that MaMa needed. That same night we had Pumpkin Stuffed Whole Wheat Ravioli in a Brown Butter and Walnut Sauce.
I heard MaMa telling DaDa that the pasta was actually quite easy to make, and that she learned the hard way that you don't stack the little raviolis before you've cooked or froze them.
Pumpkin Stuffed Whole Wheat Ravioli
---
---
Pumpkin meets pasta for a delicious dinner.
Ingredients
Pumpkin and Feta Filling Ingredients:
2 c pumpkin (canned works)
1/2 c feta cheese, crumbled
1/2 c dried bread crumbs
Whole Wheat Pasta Ingredients:
2 c all purpose flour
2 c hot water
Brown Butter Sauce Ingredients:
5 Tbsp butter
1 garlic clove, thinly sliced
3 Tbsp chopped parsley
1/2 c walnuts, chopped
1/3 c feta cheese, crumbled
4 Tbsp balsamic vinegar
Instructions
In a medium bowl combine the ingredients for the pasta filling. Set aside. In a large bowl whisk together the flours for the pasta. In the center of the flour, create a well to receive the hot water. Using your hands, combine the flour and water into a sticky dough.
On a well floured surface roll out the dough until it is about 1/4 of an inch thick in a rectangular shape. Using a small (1 or 2 tsp) ice cream scoop, place small scoops of the filling onto the dough space about an inch apart on one half of the dough, leaving enough dough on the other half that it can be folded over and completely cover the half you are working on.
Once you have the filling placed, fold the dough over and cut the dough into squares using a pastry wheel or knife (we've even seen it done with a glass). Make sure the edges are pinched together.
Bring a pot of water to a gentle boil. You will cook the pasta for 4 to 5 minutes and then drain.
Meanwhile, brown the butter for the sauce in a large pan. Toast the walnuts in the butter for a few minutes until fragrant. Then add the garlic, parsley and balsamic vinegar. Mix well, and add the pasta to be tossed in the sauce. Serve while warm!