If you've been around for awhile you might remember the Lentil Chocolate Cake we made back a few years ago when we started Joseph's Grainery and the blog. MaMa and I thought it was time to make again, take better photos and incorporate Barley Flour into the recipe.
Lentil Chocolate Cake
adapted from recipe by Dawn Bennet, 2008 Friends of Whitman County Library Cookbook
---
---
A deceptively delicious way to add a protein punch to a great dessert.
Ingredients
1/2 c Joseph's Grainery Lentils, cooked
3/4 c oatmeal
3/4 c sugar
3/4 c brown sugar
3/4 c chopped walnuts
1 3/4 c Joseph's Grainery Barley Flour
1 tsp baking powder
1 tsp baking soda
2 Tbs unsweeted cocoa
1 tsp salt
1 sm box instant chocolate pudding
2 eggs, beaten
1/3 c vegetable oil
1 tsp vanilla
1 2/3 c boiling water
Instructions
Preheat over to 350 degrees.
In a large bowl combine dry ingredients.
In another medium bowl beat eggs, oil and vanilla; stir in lentils.
Add lentil mixture to dry ingredients and mix well.
Add boiling water and mix thoroughly.
Pour batter into greased 9 x 13" baking pan. Bake approximately 30 minutes
On another note, we had snow on the Palouse yesterday morning. Grandpa was out and about and took this photo at the Artisan's Barn in Uniontown, Washington - it's a great place to stock up on your Joseph's Grainery Whole Grains and Legumes.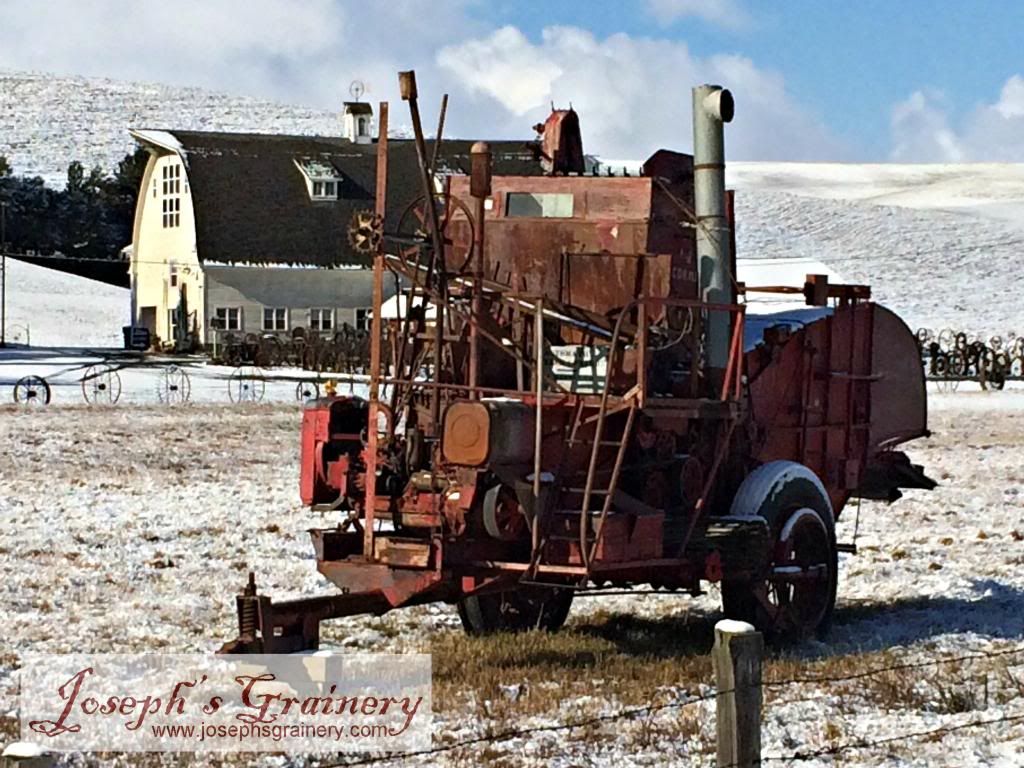 That's an old combine without it's header. It would've been pulled by a tractor...looks a little different than what we use today, huh?