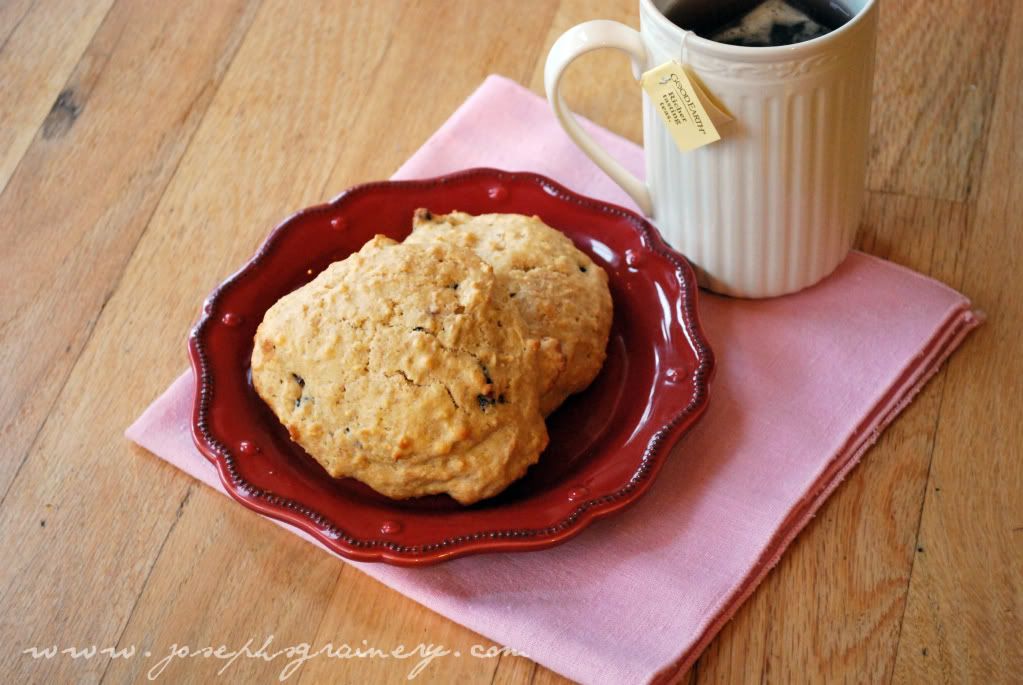 Raisin Oat Cracked Wheat Scones
Can you tell we've been on a bit of a breakfast kick at our house. MaMa says that's for two reasons. First, there's natural sun light in the morning and it's more fun to take photos with natural sun light. Second, MaMa's New Year's Resolution was to be better about eating something more than just a bowl of cereal (she won't let me tell you which one...she's embarassed) for breakfast. So on her breakfast quest, here's another grab-n-go breakfast option - Raisin Oat Cracked Wheat Scones.
Ingredients for Raisin Oat Cracked Wheat Scones:
3/4 c all purpose flour
3/4 c
Joseph's Grainery Hard Red Whole Wheat Bread Flour
2 tsp baking powder
1/2 tsp coarse salt
3 Tbs packed brown sugar
1/2 c rolled oats
1/2 c raisins (or craisins)
2 Tbs
Joseph's Grainery Cracked Wheat Breakfast Cereal
3 Tbs unsalted butter, melted
1 egg, lightly beaten
1 c buttermilk (need a
buttermilk substitute
?)
Directions: Preheat your oven to 400 degrees. In a medium bowl, whisk together the flours, baking powder, salt, brown sugar, oats, raisins, and
Cracked Wheat Breakfast Cereal
. In another bowl, whisk together the butter, egg, and buttermilk until combined, then add it to the flour mixture. Stir until the batter is evenly moistened.
Drop batter in 1/3 cupfuls onto a parchment lined baking sheet, making sure they are at least 2 inches apart. Bake until golden brown, approximately 15 minutes. Let the scones cool on a wire rack.
This recipe was inspired by one we found in
Martha Stewart's Everyday Food
(Jan/Feb 2011 issue).