Just in case you missed MaMa's guest post over at
Kuzak's Closet
, here's what she made for the special occasion.
Wishing you were somewhere tropical right about now, but a reality check reminds you that you've got a New Year's Resolution to stick to?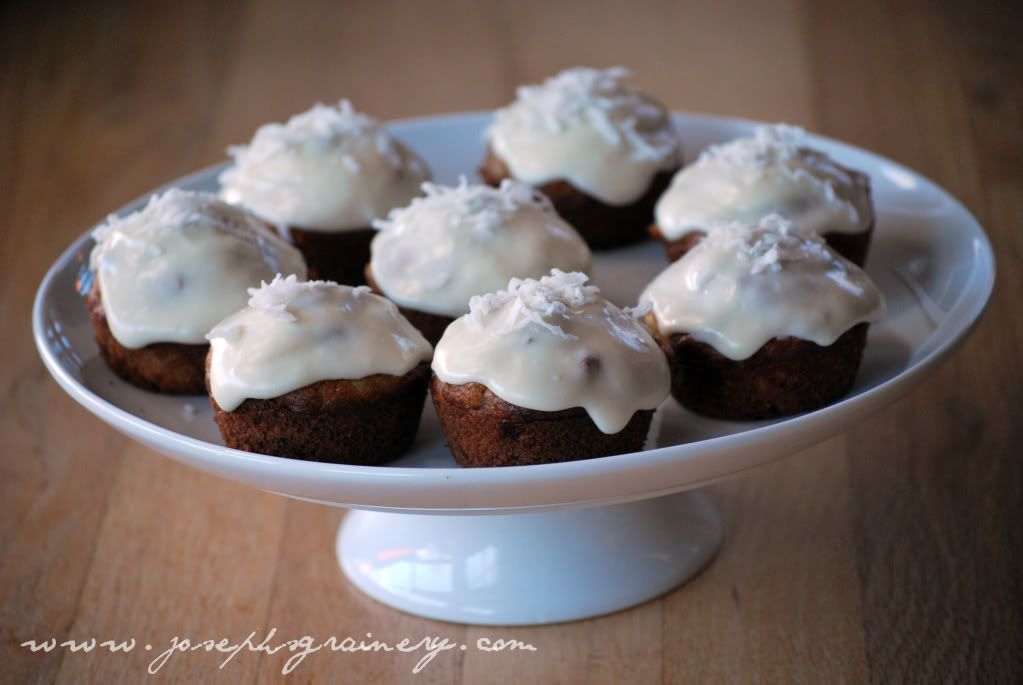 Pina Colada Breakfast Cupcakes:
1 1/2 c
Joseph's Grainery Soft White Whole Wheat Pastry Flour
1 tsp baking powder
1/2 tsp baking soda
1 tsp cinnamon
1 tsp sea salt
2 eggs
1/2 c mashed banana
1/2 c oil
1 tsp vanilla
1/2 c walnuts, coarsely chopped
1/2 c canned crushed pineapple, undrained
1/2 c shredded coconut
For the Cream Cheese Frosting
(optional...obviously healthier if you left if off):
4 oz cream cheese
4 Tbsp butter
1 1/2 c powdered sugar
1/2 tsp vanilla
1-3 Tbsp Milk (depending on desired consistency)
Directions:
Preheat your oven to 400 degrees. Prepare a muffin tin by greasing it or lining with paper cups. In the bowl of your mixer, stir together the dry ingredients.
In a small bowl, mash together the egg and banana, then add the oil and the vanilla the combine. Pour this wet mixture over the dry ingredients.
Add the walnuts, pineapple and coconut and stir until the flour is just moistened.
Fill the muffin tin cups about two-thirds full. We like to use a 1/4 or 1/3 cup measure to help keep things tidy.
Bake for 20 minutes, until golden brown and an inserted toothpick comes out clean.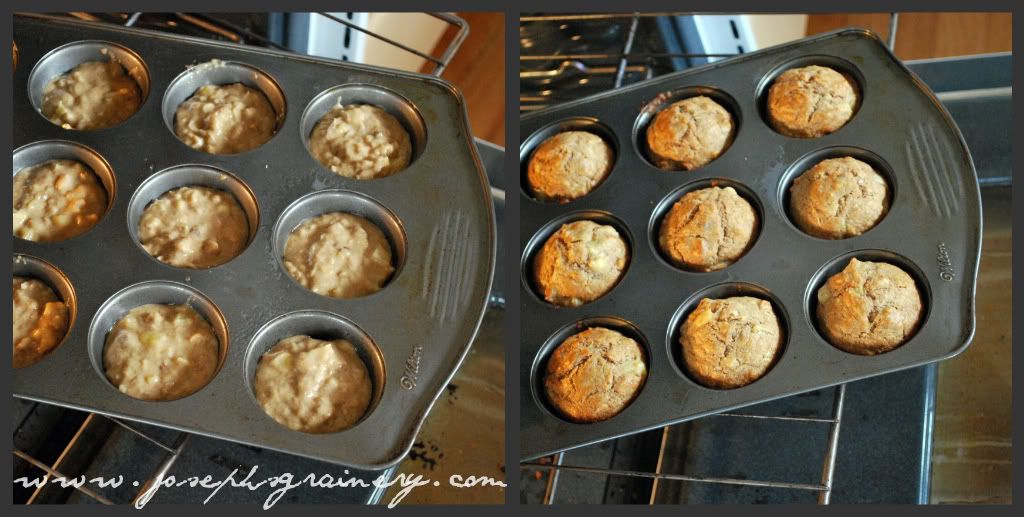 You can enjoy them as-is, for a wonderfully healthy start to your day...
...or, if you're like me and have an insatiable sweet tooth, and you aren't too strict about that New Year's Resolution, go ahead and soften the cream cheese and butter and then mix together with the powdered sugar, vanilla and milk until it's nice and smooth, then frost your breakfast cupcakes. :) You can even sprinkle a little shredded coconut on top.