When MaMa said she was going to make cookies with whole wheat berries in them I was more than a little skeptical - I thought they'd be crunchy and chewy, but boy, was I ever wrong!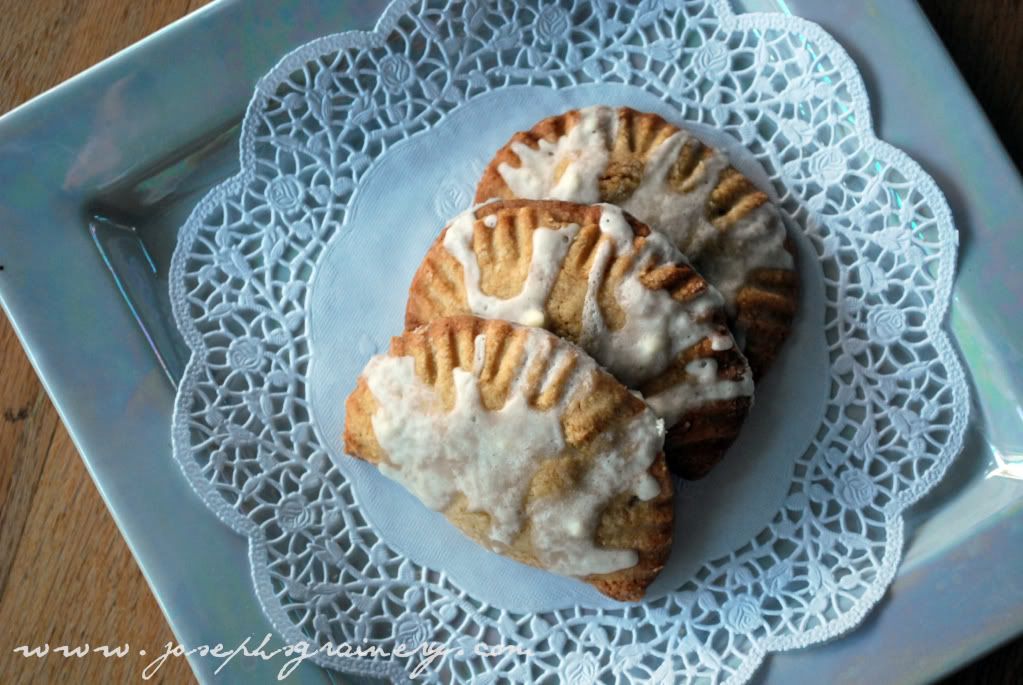 MaMa said these cookies reminded her of those sugar laden, deep fried fruit pies, but these taste much better and you know you're eating something that's a lot healthier.
Ingredients for Double-Wheat Foldover Cookies:
1/2 c
Joseph's Grainery Hard Red Wheat
, cooked -
directions for cooking
2 Tbsp raspberry jam
1 1/2 c
Joseph's Grainery Soft White Whole Wheat Pastry Flour
1 tsp baking powder
1/4 tsp salt
1/2 c butter
1/2 c brown sugar, packed
1 egg
1 tsp vanilla
Directions: For the filling combine the
and jam, cover and chill.
Stir together the
flour
, baking powder and salt.
In a seperate bowl, beat the butter on medium speed for 30 seconds. Add sugar and beat until fluffy. Then add the egg and vanilla and beat well. Add the dry ingredients and mix until combined. Cover the dough and chill for 2 hours.
On a lightly floured surface, roll dough to 1/8" thickness. Cut with a 2 1/2" cutter, Place about 1 tsp of the filling in the center of each circle. Fold the dough in half over the filling and seal the edges using a fork. Place on an ungreased cookie sheet and bake at 375 degrees for about 12 minutes. Cool on a wire rack.
To make the powdered sugar icing, cream together 2 c powder sugar and 1/4 c soft butter. Add 1/4 tsp salt, 1 tsp vanilla, and 3-4 Tbsp milk and beat until smooth.
Drizzle over the cooled cookies.