When MaMa saw a recipe for Biscotti on Cinnamon Spice & Everything Nice, she really wanted to give whole grain biscotti another try. I think the biscotti are a bit tough to chew, but Mommy says that's the way they are supposed to be and has been in heaven, dunking the biscotti in her coffee each morning for breakfast.
Chocolate Cranberry Whole Grain Biscotti
Ingredients for Chocolate Cranberry Whole Grain Biscotti:
1/2 c dried cranberries, rough chopped
1 + 1/2 c chocolate chips
Directions:
Preheat oven to 350 degrees F.
In a large mixing bowl whisk together flours, sugar, baking powder and baking soda together. Add eggs one at a time and beat with an electric mixer on low speed until mixed well. Beat in vanilla extract then cranberries and 1/2 cup of the chips.
Cut the biscotti on the diagnol.
Divide dough in half and form each one into a log about 2 inches thick and 15 inches long. Bake until puffed and golden brown around the edges about 30 minutes. Remove from oven and let cool on wire racks.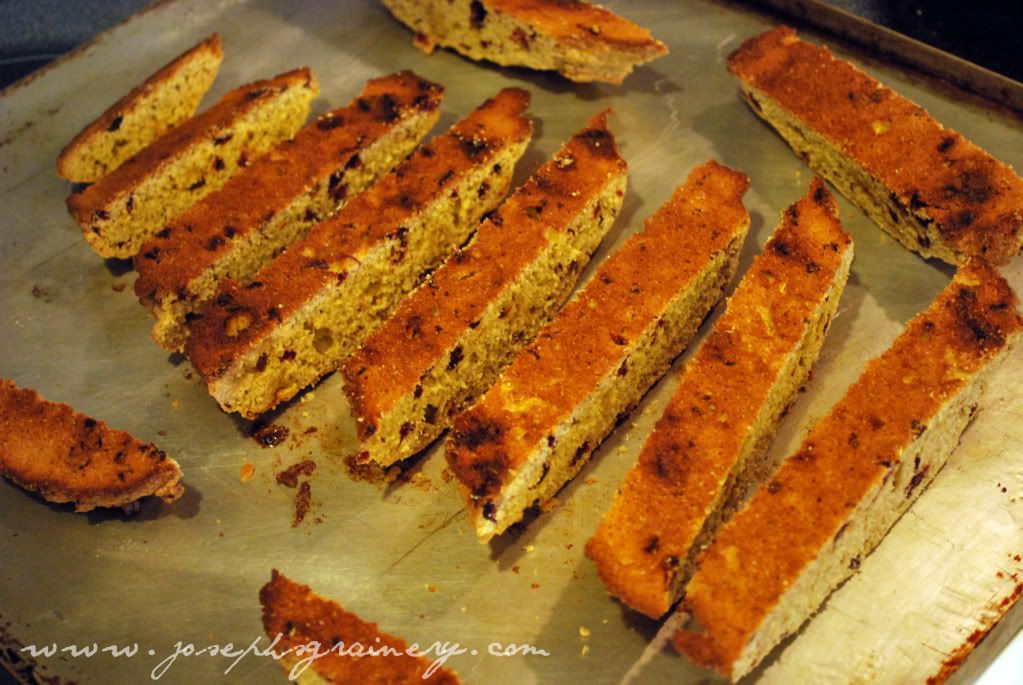 Even though it looks a bit silly, bake them on their backs.
While still warm but cool enough to handle carefully remove the logs to a cutting board. Slice the biscotti on the diagonal about 3/4 inch thick and place back on the cookie sheet standing upright on their bottoms, not flat. Bake again 8-20 minutes, depending on how crunchy you want them.
A nice smothering of chocolate makes everything better!
Cool cookies on wire racks. When cool melt remaining cup of chocolate and shortening together, whisking well. Dip ends of each cookie allowing excess to drip off. Place on parchment paper and allow the chocolate to set. Store in airtight container up to 1 month.
A perfect pair!