My Grandma goes to Starbucks and buys a tray of their Cranberry Bliss Bars at least once every holiday season. MaMa is always telling her how she could make them at home and save the $20 she spends on these beloved little bars, so MaMa did just that, figured out how to make Starbuck's Cranberry Bliss Bars with whole grain flours!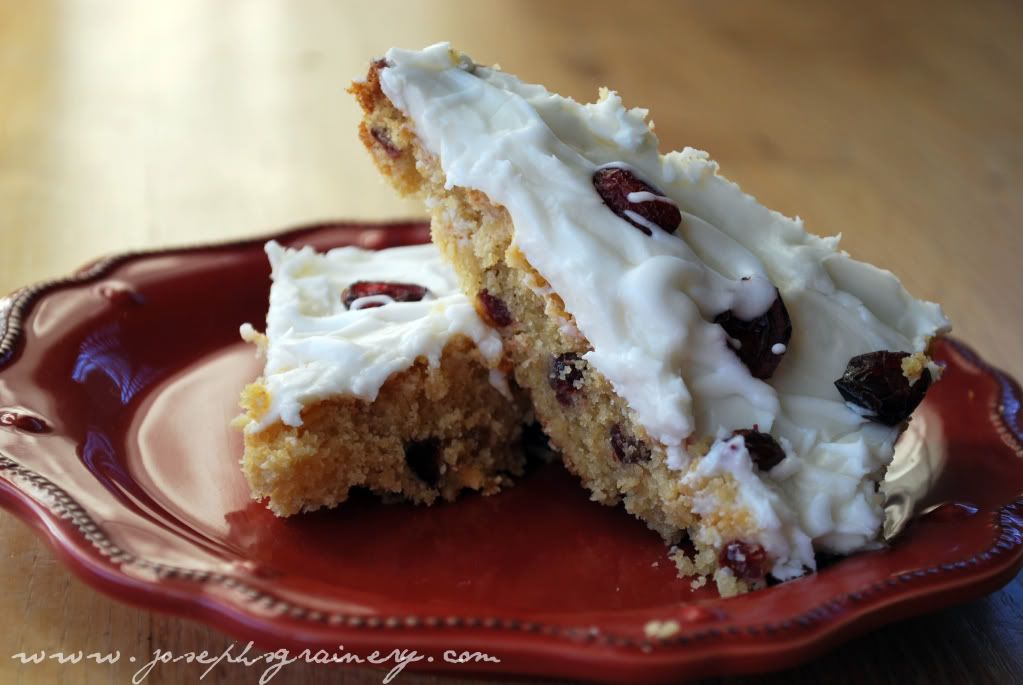 We think they taste even better than the "real" ones! Warning....the only healthy thing about these bars is that MaMa used whole grain flours. :)
Ingredients for Whole Grain Version of Starbuck's Cranberry Bliss Bar -
Cake
:
1 c (2 sticks) butter, softened
1 1/4 c light brown sugar, packed
3 eggs
1 Tbsp lemon juice
1 1/2 tsp vanilla
1 tsp ginger
1/4 tsp salt
1/2 c
Joseph's Grainery Soft White Whole Wheat Pastry Flour
1/2 c
Joseph's Grainery Barley Flour
1/2 c all-purpose flour
3/4 cup diced dried cranberries
6 ounces white chocolate, cut into chunks
Frosting
:
4-ounces cream cheese, softened
3 c powdered sugar
4 tsp lemon juice
1/2 tsp vanilla extract
1/4 c diced dried cranberries
Drizzled Icing
:
1/2 c powdered sugar
2 Tbsp milk
2 tsp vegetable shortening
Directions: Preheat oven to 350°F. Beat butter and brown sugar together until smooth. Add eggs, lemon juice, vanilla, ginger, and salt and beat well. Gradually mix in
flours
until smooth. Mix 3/4 cup diced dried cranberries and white chocolate into the batter by hand. Pour batter into a well-greased 9x13" baking pan. Use a spatula to spread the batter evenly across the pan. Bake for about 35 minutes or until cake is light brown on the edges. Allow cake to cool.
Make frosting by combining softened cream cheese, 3 cups powdered sugar, lemon juice and vanilla extract until smooth. When the cake has cooled, use a spatula to spread frosting over the top of the cake.
Sprinkle 1/4 cup of diced cranberries over the frosting on the cake.

Whisk together 1/2 cup powdered sugar, 1 tablespoon milk, and shortening. Drizzle icing over the cranberries in a sweeping motion or use a pastry bag with a fine tip to drizzle frosting across the top of the cake.
Allow cake to sit for several hours, then slice the cake lengthwise (the long way) through the middle. Slice the cake across the width three times making a total of eight rectangular slices. Slice each of those rectangles diagonally creating 16 triangular slices.
Our New Favorite Knife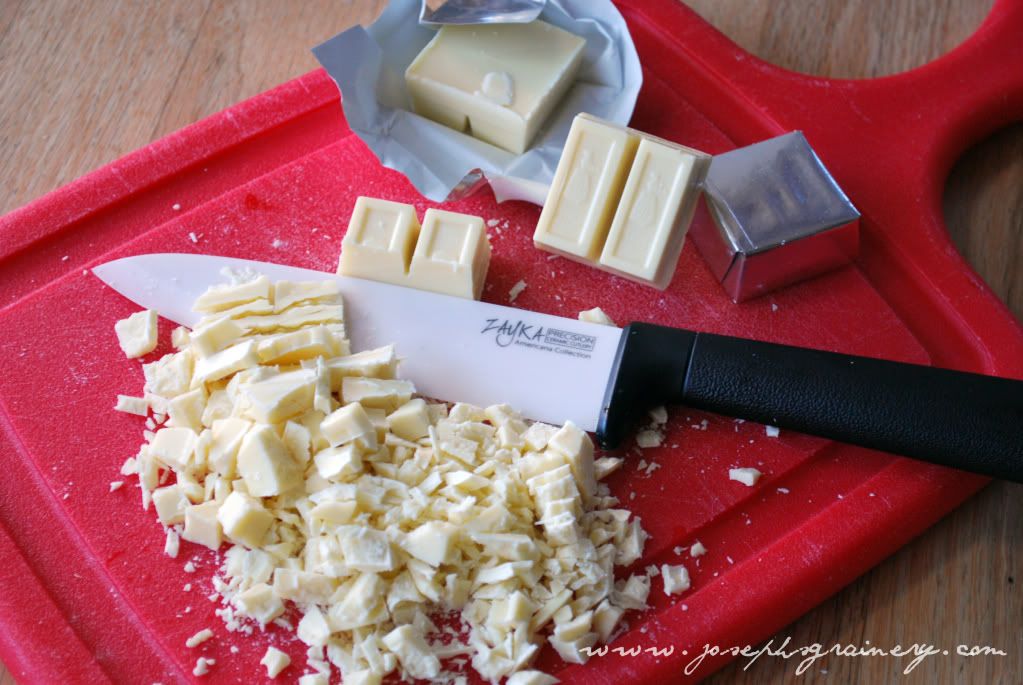 These Cranberry Bliss Bars required some chopping, so MaMa turned to what has quickly become her new favorite knife, her
Zayka Ceramic Knife
. She says it'll cut through anything as if it were butter, and it makes prep work so much more fun!
The Zayka model MaMa has been using is the
Avanti
and she couldn't ask for a more versatile knife. And the fact that it's anti-bacterial makes her almost giddy! Did you know that ceramic cutlery lasts longer than traditional steel? If you're in the market for a new knife, or know someone who is (great gift idea!) MaMa highly recommends her
Zayka Avanti Ceramic knife
!
***All opinions are our own, the only compensation we received was the knife, which MaMa won't let me touch!