You can't have a
Whole Grain Cookie Mix
and call it a cookie mix if it won't make Thumbprint Cookies! MaMa says these are just a classic that everyone expects to see when they open that tin of Christmas Cookies.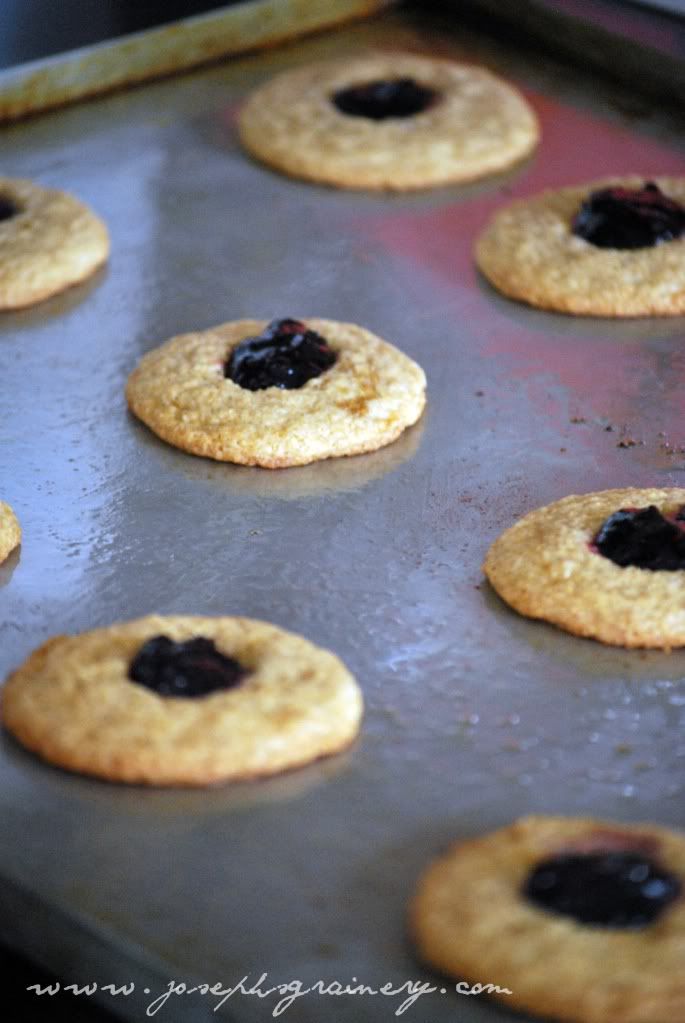 Thumbprint Cookies made with Joseph's Grainery Whole Grain Cookie Mix.
MaMa didn't let me have too many of these yummy lil' guys, as I made a good ol' fashioned mess with them.
Thumbprint Cookies
---
---
Something as sweet as a preserve in the middle of a cookie is always a pleasant surprise.
Ingredients
1/2 c butter, softened
1 c sugar
1 tsp vanilla extract
1 egg
2 Tbsp milk
Sugar for rolling
1/2 c preserves of your choice
Instructions
Preheat your oven to 375 degrees. In the bowl of your mixture, whisk together the cookie mix, sugar and butter until it resembles fine crumbs. Add the vanilla, egg and milk and mix on low speed until the dough is thoroughly mixed and begins to come together.
Form the dough into 1inch balls and roll in sugar. Place on a greased cookie sheet. Bake for 7 to 9 minutes.
Right after you take the cookies out of the oven make a thumbprint in each one...this may hurt just a little, so my MaMa says to be careful
Place 1/2 tsp of preserves in the thumbprint of each cookie and allow to cool.
Whole Grain Thumbprint Cookies just begging for a little jam.
What? You haven't ordered your
Whole Grain Cookie Mix
yet? Why not? There's no better time then now. Go ahead, we'll wait. :)
Do you have a special Christmas Cookie Baking Day? When do you typically start your baking? In early December MaMa is going to put together a shopping list for you, to make things super easy...we'll pick several different types of cookies made with our
Whole Grain Cookie Mix
, and compile one simple shopping/pantry check list for you, so go ahead and order your
cookie mix
today, so you're ready for all that holiday cookie baking!